31 Jan

Reflection Friday

Date/Time
Date(s) - January 31, 2020
9:00 am - 9:45 am


LEARN – GROW – EXCEL
Women entrepreneurs are constantly juggling the responsibilities of their personal and professional life. Because our calendars are so full, we rarely take time to invest in ourselves. Personal development and growth are keys to success – if we don't grow, how can we grow our business.
The Reflection Friday program is specifically designed for women to engage in conversations on the topics that impact us as busy working women. This is your time to learn from others and see that you're not alone in the challenges that face us as businesswomen.
Join us every 2nd Friday to connect in an open and honest dialogue about the challenges that are unique to women. In this 45-minute virtual community, you'll have the opportunity to:
Gain a new perspective on topics relevant to your business success;
Get clear on 1 or 2 tasks that MUST be achieved next week to grow your business; and
Receive a tip on how to be more productive in your day.
Participants of this program are welcome into our closed Reflection Friday Facebook group to continue the conversation, share information and build relationships.
Please see Facebook events for details of upcoming topics.
This is a FREE event!
Register below to receive Zoom link.
---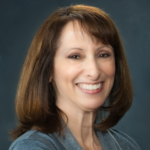 Reflection Friday Facilitator
Cindy Gordon has been partnering with small business owners to help them make more money in their business for over 30 years. She offers fresh perspectives on how to get past the challenges that are unique to women. Her coaching training and knowledge of tools and principles that are authentic to women provide Cindy the know-how to change women's lives! Cindy has been the Director of the Mentoring Program for the National Association of Women Business Owners (NAWBO) in 2016-2017. Her participants not only overachieve their goals but generated on average approximately 5 unique business leads from their group peers. She currently facilitates female based Executive Club Mastermind groups where her members are achieving year over year growth in excess of 20%. Participants of Cindy's Secrets of 6-Figure Women Workshop are taking bold steps to advance their businesses that they were hesitant to take before. Cindy aims to provide value to her clients and doesn't let them down. Learn more about Cindy Gordon.
---
Enroll Now
Categories